Noise cancelling
headphones
BOSE NOISE CANCELLING HEADPHONES ARE ENGINEERED WITH WORLD-CLASS TECHNOLOGY SO NOTHING COMES BETWEEN YOU AND YOUR MUSIC.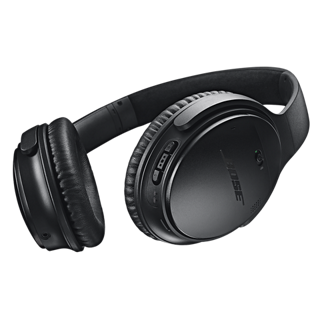 QUIETCOMFORT® 35
WIRELESS HEADPHONES
We set the standard.
Now we're raising the bar.
You'll love what you hear. And what you don't. Our world-class noise cancelling technology is engineered to block out distractions, so you can enjoy your music with nothing in the way. Hear lifelike sound from headphones built with premium materials that are durable and stay comfortable all day. Available in over-ear and in-ear styles, they give you full control of tracks, volume and calls.
The next generation of noise cancellation
Experience what it's like to leave the noise behind. You'll feel it at the flip of a switch—noise fades, and your music soars. That's the power of our Acoustic Noise Cancelling® technology, which continuously measures, compares and reacts to outside noise—then cancels it with the opposite signal. And with QuietControl 30 wireless headphones, we've added another breakthrough technology: controllable noise cancellation that lets you choose how much of the world you want to let in.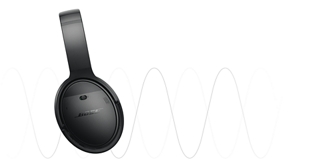 QUIETCOMFORT® 35 WIRELESS HEADPHONES
Wireless headphones let you take your music anywhere. That's why we built them to keep up. Impact- and corrosion-resistant materials in our QC®35 headphones are engineered for life on the go. And they'll stay comfortable with premium, plush ear cushions—so even when you listen all day, it won't feel like you're wearing headphones.
QUIETCONTROL 30 WIRELESS HEADPHONES
We obsessed over every detail so you could listen all day—comfortably. QC®30 headphones are wireless and feature a lightweight, contoured neckband that conforms to your body to give you a seamless fit. The redesigned StayHear®+ QC® tips have a unique shape that gently conforms into your ear, and an extended flexible wing that provides more stability.
Lose the noise.
Lose yourself in your music.
With QuietComfort® 35 headphones, our world-class noise cancellation continuously measures, compares and reacts to outside noise—then cancels it with the opposite signal to make quiet sound quieter and music sound better. Whether you're turning your music up or down, proprietary technologies make sure it's balanced at any volume. QC®35 headphones are re-engineered with Bluetooth technology so you can get the same premium audio performance without wires. And they're designed to be lightweight, comfortable and durable. With impact-resistant materials and a luxurious headband and cushions, they're built for all-day listening.
Decide how much of the world to let in
You can't control how noisy your environment is. But you can control how much of it you hear. Set your own levels of noise cancellation and decide how much of the world you want to let in. QC®30 headphones use proprietary technologies to deliver balanced audio performance at any volume, too. A lightweight neckband design conforms to your body for all-day wearability, and StayHear®+ QC® tips stay secure through it all. And you can leave the wires behind: they're engineered for Bluetooth and NFC pairing so you'll stay focused on the music.